Do you want to take your biz to the next level? 
Lill Business Academy 
6 months program for coaches, consultants and creatives
who are finally ready to focus!
What do you want to be known for?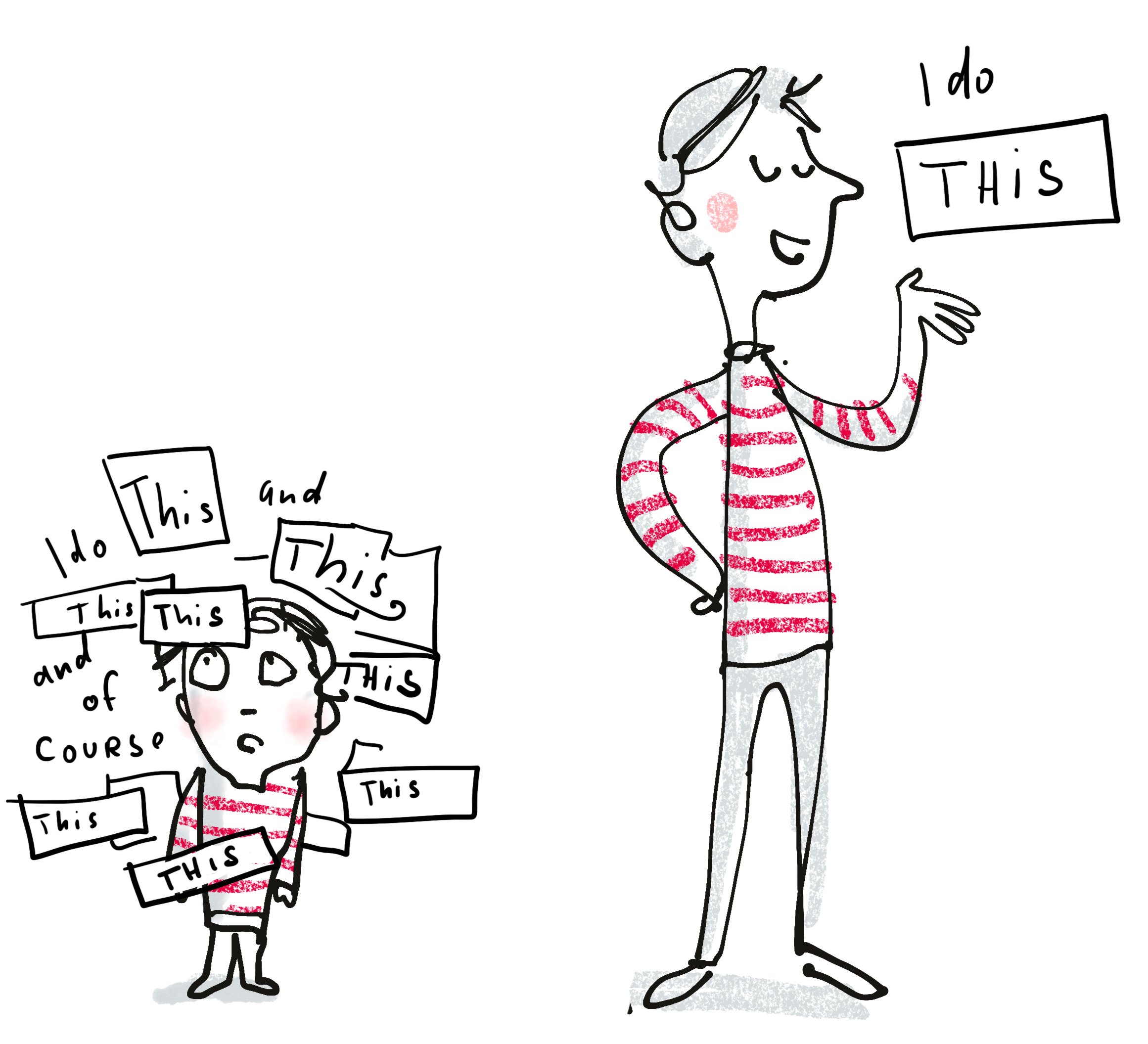 Are you hiding underneath a heap of widely different services?
Maybe  because you have a hunch that if you specialise..  you will stand out and be visible! The fearful part of your brain would like you to stay confused...
You could focus on the one thing that you love doing most! 
The one thing that you are known for.
The one thing that you can build your brand around.

Your Superpower  Service.
Are you expressing your own uniqueness?
You already have a business up and running, and you are great at what you do.
But when you talk about it you sound like everybody else?
You get overwhelmed by too many project ideas, and don't know which one would bring your business forward

You don't know how to talk about yourself despite of all the interesting stuff you have done. (Hint: If you have figured out your signature service, this becomes easy. After all - you have a message to share!

I get it. I know exactly how it feels like. My problem was never that I didn't know how to do stuff. My problem was that I I knew too many things! And couldn't decide what was the best. 
What I have learned when building my creative business, is that standing out and selling your one unique service is much, much easier than offering a million things.
But it is difficult to see your superpower by yourself, because you are too close to your own business.
Result: Get client inquiries! 
Proudly show off your signature service on a revamped and streamlined social media profile page (or any other place where you get seen). 
Imagine - a profile page that actually gets you clients! * 

*if you do the work to show up in their feed! I'm mostly familiar with LinkedIn, but I'm sure it also works on other platforms.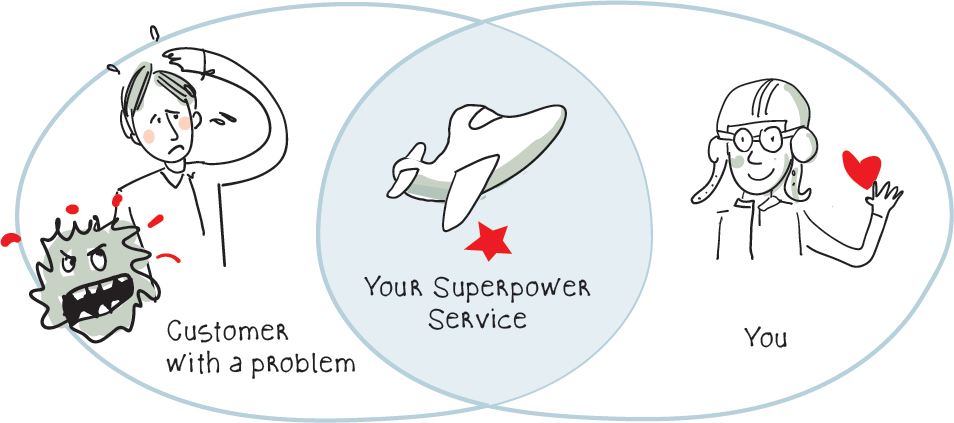 Don't market yourself - market your message!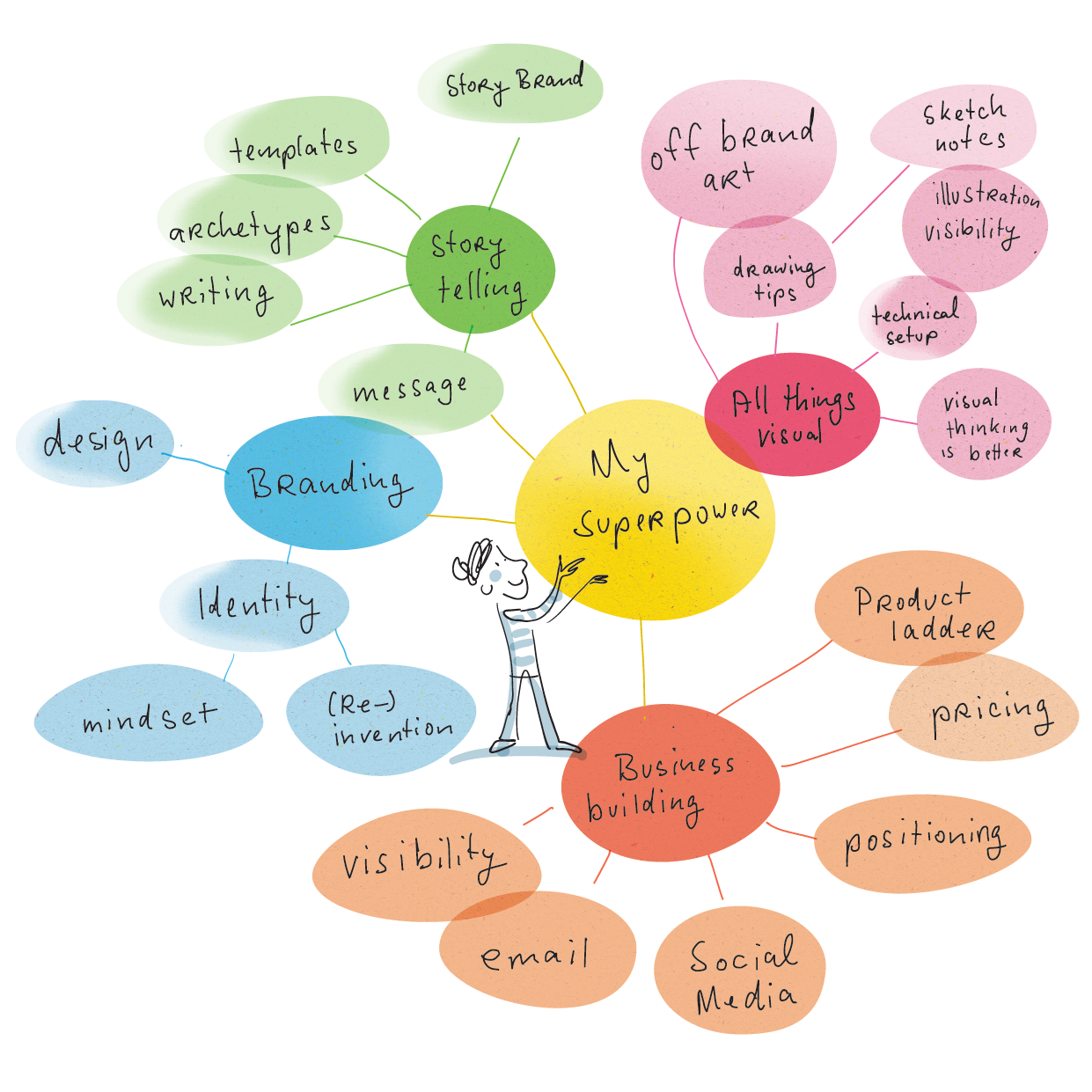 Always know what to talk about. Create your own ecosystem of topics around your superpower!
---
Who is this course for?
Professional coaches, consultants and creatives and other brilliant solopreneurs who are already running a business and want to take their brand to the next level. 
If you are in doubt, you can send me an email to ingrid@ingridlill.dk or book a  chat with me

How it works
Two 1:1  sessions with me:
- Brand Kickstart session (value: 300$)
- Brand Storyboarding session (value 950$)
- Weekly group coaching 
- Access to all drawing courses and meetings
Part one: Find your Superpower


I want you to be more you! We dig into your story, 

your skills, 

your interests and your 

values. What d

o you love doing? And who are your customers?



Part two: Create your Signature Service


What it is you want to be known for? And how do you best talk about it?

Part three: Communicate your brand
We draw a storyboard of your brand. This is where the magic happens. Your service connects you with your customers. It is the centerpiece of your business, and a manifestation of your message. 

Part four, five and six:  Spread the word on social media


Streamline your social media profile, spread the word and get client inquiries! 




What clients are saying
If you are struggling with visibility, I highly recommend that you do Ingrid Lill's Superpower Storyboard class. It's an amazing tool that you won't learn anywhere else. Ingrid's zone of brilliances is that she is able to take your ideas and make it into an easy to understand visual concept.
That way you'll gain the clarity that you need to take the next step. As an added bonus, Ingrid has a knack for building very rich communities. This means that you will walk away with so much added bonus on top of your brand identity.
Michala Storm, coach
"When I took Ingrid's class, I was at a complete loss for who I wanted to work with. I was in love with the process; sharing what I knew and seeing Ingrid depict that story visually.  Having the images to bounce off of helps a lot… to notice what really resonates with me and what's missing.I have gone through 3 ideas and each one bringing me a little closer to that sweet spot - what my heart feels called to do and there being a real need for that in the world. This morning a new idea comes and I am so grateful to have this format to work with to literally sketch out the details of my latest inspiration to bring to the marketplace and test it out!  Thank you Ingrid for your invaluable support!"

Carol K,  creativity coach
Ingrid has such a collaborative, direct style. With my fellow students, we drew together, laughed together, got clear on our messaging together. Being part of a small, intimate cohort was just magic.
In our 1:1 session, I brain-dumped my jumbled heap of strengths, interests, and skills. And within 20 minutes, Ingrid presented me with a clear, concise brand picture. I've been working to clarify my business for over a year. Ingrid is a strategic magician!
Christy Sharafinsky, brand strategist
Ingrid Lill – Business Coach with a Pencil.
 I help coaches and consultants to figure out their superpower.
As a graphic designer, I designed countless logos, corporate identities, websites and brochures. I took up every job that came my way. 
My website was basically a portfolio of stuff that I had done in the past, with a "contact me" button where potential client could send me an email. 
Of course, they never did. All my work came via word of mouth. 

Marketing was a foreign word for me.  I always felt awkward promoting myself. 
Until I decided that I was done doing everything. 
I wanted to do only the fun stuff. Drawing. Thinking. Designing my own material. 
It took some time until it clicked. 
Only when I sketched out my own business plan I discovered that the tools of visual thinking can help tremendously with getting clear about your business message. This is how Business Storyboarding was born. 
Business Storyboarding became my very own and unique superpower service. 
This changed everything.
I didn't have to market myself anymore. 
I could market my service. 
And my service became my message: 
I'm on a mission to fight the ocean of boring  design templates and and marketing speak that all look and sound the same.
I'm on a mission to help you find - and market -  your own superpower service! 
You can see the work I'm doing for clients on www.lillbranding.com
Bonus: Get my "Visual Thinking for Business" for free.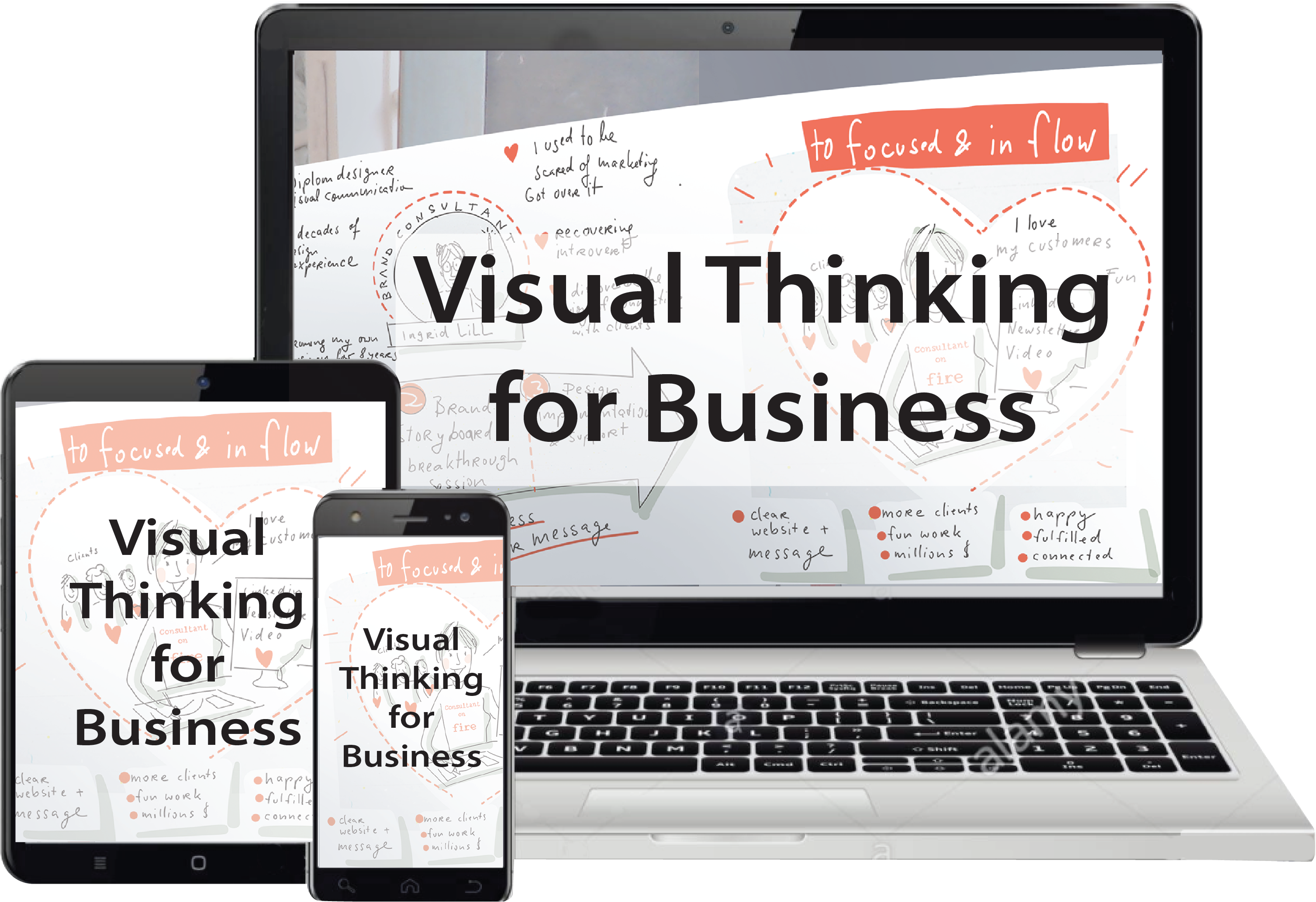 Do you think you can't draw? Think again! You just didn't get the right instructions.
- Become your own illustrator: Basic drawing class
- Huge library of live webinars about a multitude of topics
- Brand Storyboarding module with templates and behind-the-scenes tricks  
I'm looking forward to see your brand & business bloom! 
 
Ingrid