Drawing & visual storytelling for coaches, consultants and creatives

Communicate your ideas with power and personality
... even  if you think you can't draw!
Use simple sketches for marketing, presenting and teaching

Maybe you have dreamt for a long time about expressing your ideas with simple doodles.
Or it has never crossed your mind yet to use drawings  for your business, or even spend money on it! 
Well...
Psychological research demonstrates that sketching is one of the best ways to clarify our own ideas and communicate them to others.
But there is more to it. 

I started about 5 years ago to actively use drawings in my work and my marketing. 
In the beginning it felt clumsy and scary, but with practice it got easier. And not only that. 
I built an archive of drawings that I can now use over and over again


My drawings are so "me" that  they are immediately recognizable, and just stand out, in spite of (or because of) being very simple


After only one year on Linkedin, my visual story posts get between 2000 and 30 000 views. (To compare: My videos are seen about 200 times) 
What drawing can do for your business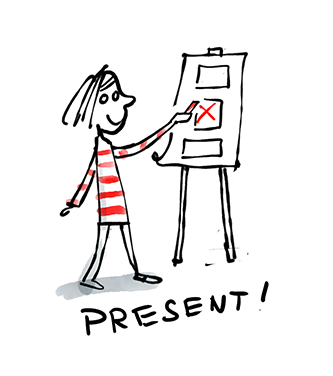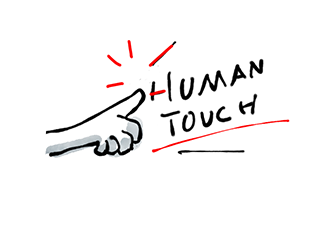 Ditch boring stock images and make your social media posts and newsletters and stand out


Communicate with personality and humor


Visualize strategies and solutions for your clients - and for your own business


Infuse more fun into all your business activities!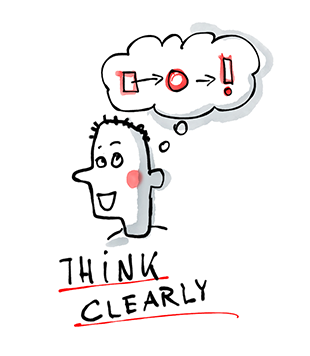 Sketch on a whiteboard for teaching and presentations with confidence


Activate your right brain (aka your creative genius)


 

<--- Get more views on social media!

A fun and effective way to become visible - without video


For years I didn't dare to use drawings, in spite of being a professional designer. I thought I wasn't good enough. 
It all changed when I discovered graphic facilitation, and saw that drawing could be easy.  It has changed my way of working, my business and, frankly – my life.
I use drawing in 1:1 coaching sessions, to illustrate my website, and to stand out on social media. 
And the best thing is: I can teach you how to do it, too. 
What students are saying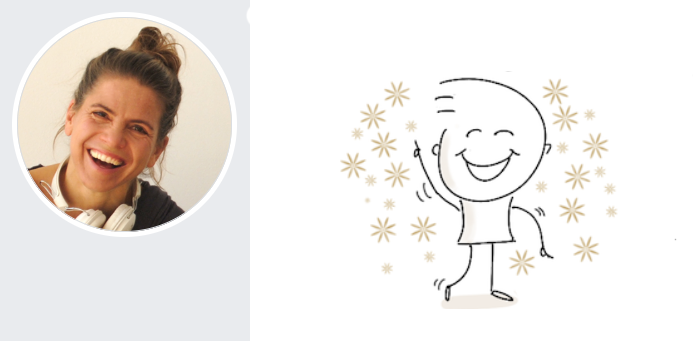 I have always dreamed of being able to illustrate a little bit - for my blog and for little everyday stories. But I drew worse than a kindergarten child and my attempts quickly ended in frustration. And then Lill's illustrations course came along. Drawing was suddenly really fun and my pictures became much better.

Lill´s feedback on the drawings was worth its weight in gold. So if you say you can't draw but would love to, this course is definitely for you.
Su Busson, coach
www.beyourbest.at

Thanks a lot for your course, I think you rock mixing serious marketing tactics with drawing! I will apply what I learned in my business. It gave me the confidence to express myself with drawing.
Nico Brier, Web designer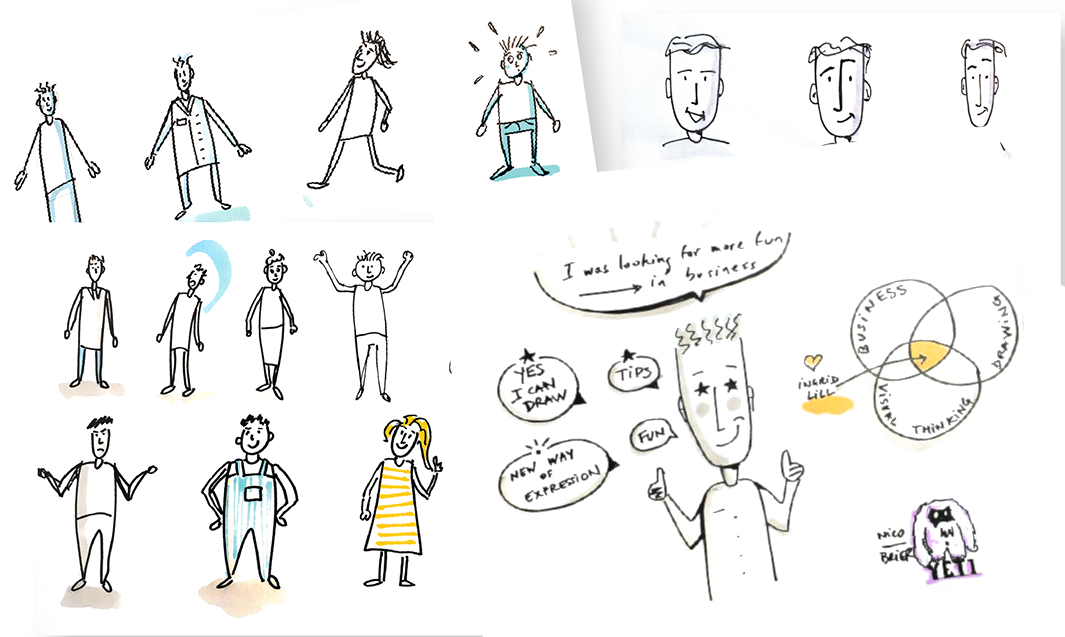 What can I use this for in my business?
Here is an example: Explain your process to your clients with a simple drawing.
What does your framework look like? A pyramid? Spiral? Or a Flywheel?

But – what if I don't have talent?
 You don't need talent. You need the right instructions.
Many drawing tutorials are too complicated.  I deliberately kept the lessons very short and concise. And I share tips and tricks that make your drawings look good, although they might be less-than-perfect. 


I'm too stressed. I have so much to do! 
Drawing is not only useful, it is also fun! Here is what Helle Langaard says about the live sessions: 

Absolutely love the Tuesday drawing sessions. Ingrid Lill is a professional illustrator. Tonights theme was "going crazy" with bright colors for half an hour. Certainly got my mind on something else, - I feel refreshed....
I can watch free drawing tutorials on Youtube! 
"Visual Thinking for Business" is more than a drawing class. I share my insights on visual storytelling, design, branding, and business building. 
But that said – if you find an artist you like, you can absolutely can learn from YouTube videos! With or without my class. But here is what a participant said:
"After going through your class I look at other cartoons or comics with new eyes. I can see all the tricks they are using, and I can copy what I like"
How it works: Self study course & live sessions
Sketching for Business consists of two parts: 
1. Basic drawing self-study course:
(Can be purchased separately. But it is more fun with the live sessions!)
Learn to draw in 3 hours or less! Short videos and worksheets for download. You'll be up and running with your pencil in no time! 
Plus, you get access to library of webinars about topics like:

Design your signature figure
Digital drawing
Drawing as a tool for coaches
Find and use your colour palette

Basic perspective

And the best: You can request topics that are relevant for your business! 
2. Monthly (or more) live drawing & coaching sessions 
Access to all the above, plus live sessions and an all-access pass to all the fun things that are coming up!
Drawing together is more fun! You can bring your drawings for feedback, get my help with visualising your content and get my input how to use them in your business design & strategy. 
Live sessions are mostly on Tuesdays, 8 PM Copenhagen time. 
   Live round - "drawing for social media" until December 14th
Find content ideas that are relevant for your business 

how to make drawings work on social media so you get more views 

technical stuff (like how to turn drawings easily into a  slideshow)

Feedback on your drawing and posts.
As a member of the Club, you also get access to the bonus courses:
Bonus 
Business-Storyboarding Course
Value: 425$
Find your message and get clear about your business communication


In five video lessons I walk you through the process how I help business owners get clear about their message and brand.


Includes templates and worksheets. 

I want to do some laid back, informal, type sketches on my PowerPoints and infographics. I deliver training on data.  So, that's why I thought this could be a good idea, rather than using boring, stock images from the internet (as the topic can be a bit dry). The course lessons are simple. I love them! It was about time I have some fun and learn something new. 
Maria Penn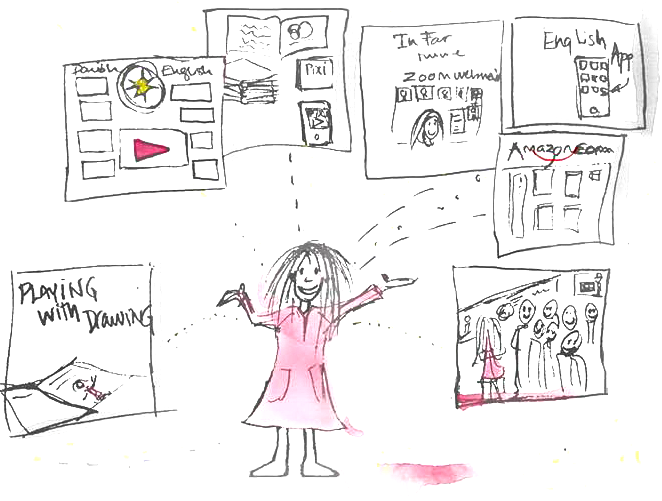 "I took Ingrid's drawing class because I have always loved to draw but I had very little confidence. Ingrid taught me many tips and tricks that made my drawings that were once flat now pop off the page!  I love Ingrid's quirky style and I learned that sometimes it is best to not try to draw to perfection. Ingrid taught me to embrace my own style. She is encouraging and built up my confidence!  I would love to take another drawing class with her!

Malika Kelly 

 Absolutely love the Tuesday evenings with Ingrid Lill. She is a professional illustrator. Tonights theme were "going crazy" with bright colors for half an hour. Certainly got my mind on something else, - I feel refreshed....
Helle Langgard, Coach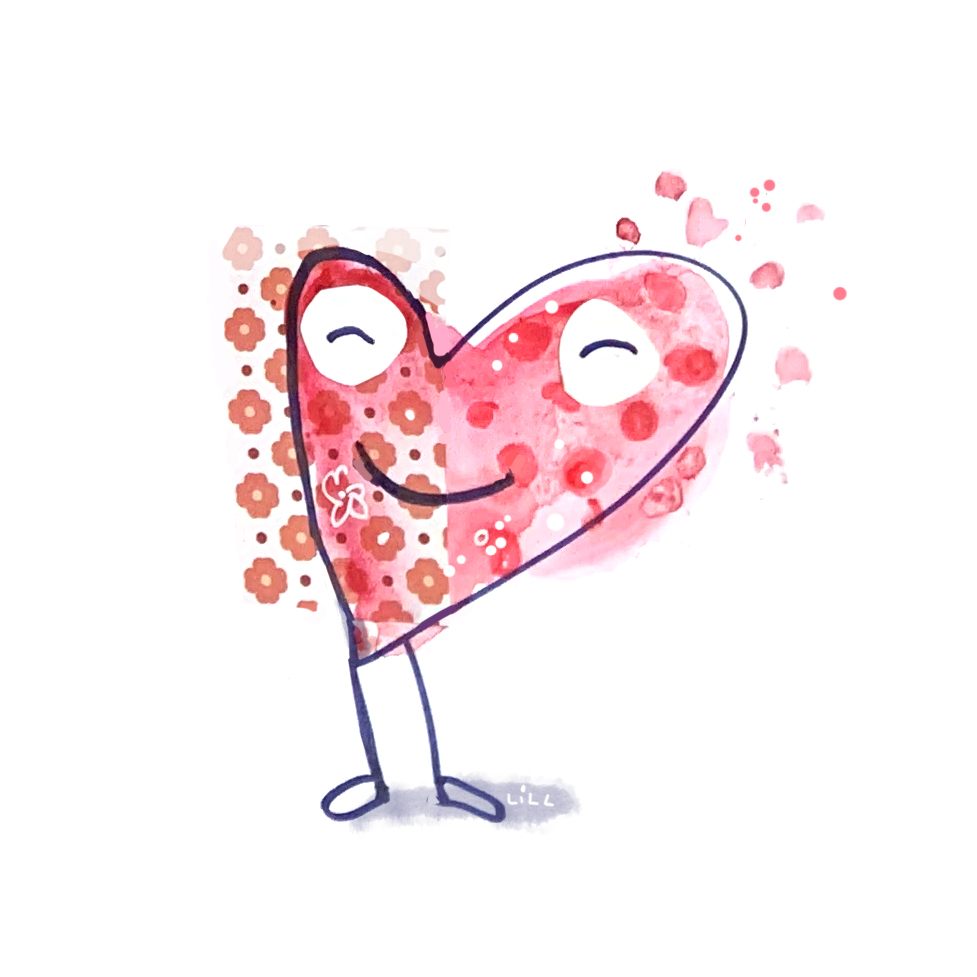 Thank you for the wonderful drawing class. I wanted to learn to draw my own illustrations for my workshops and presentations. Your step-by-step process was an eye opener and gave me a big confidence boost. Incredible that it is possible to make so much progress in only a few hours!
Rikke Moos, Copywriter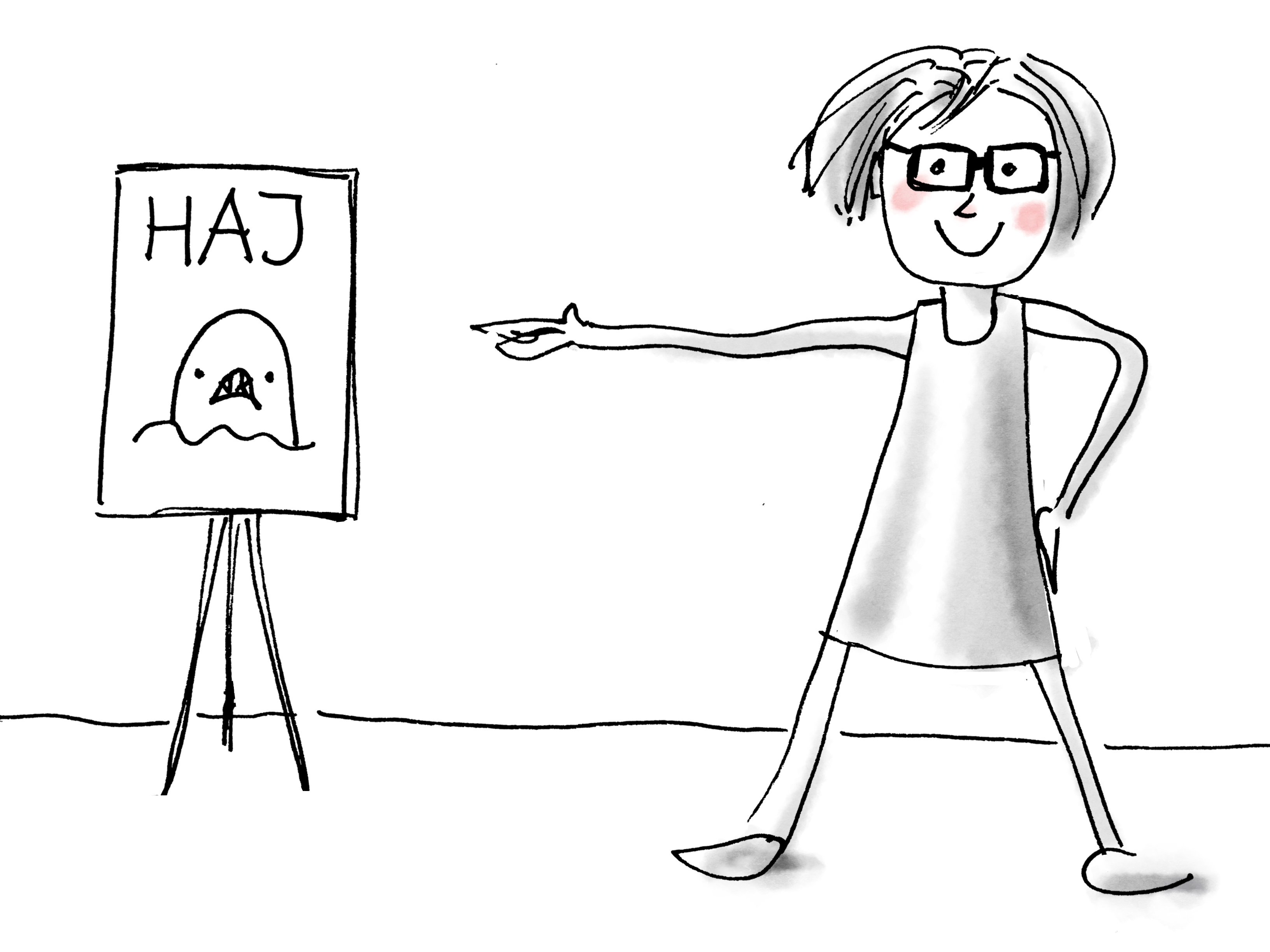 I highly recommend Ingrid's classes! This course is loaded with step by step instructions, helpful templates, tips and tricks. Best of all, you can get direct feedback on your drawings and websites, and also learn how to digitalize. The classroom is a great learning environment.
As an added bonus, Ingrid has a knack for building a rich community!
Michala Storm, coach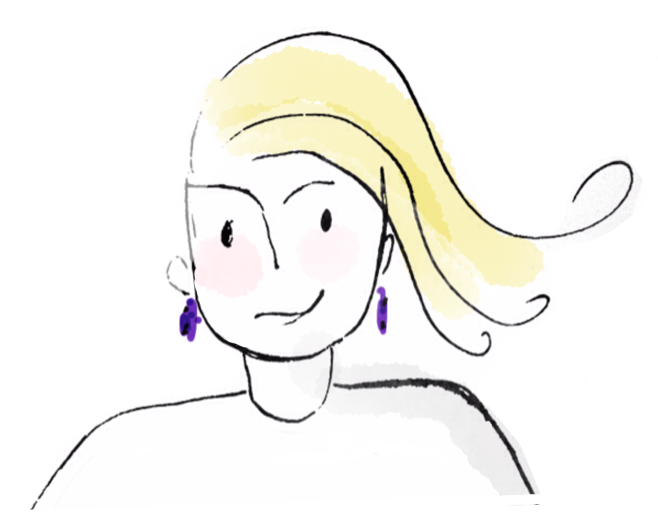 The drawing session was the most fun I've had in months (motorcycle riding excluded.) If you had told me an hour earlier that I could draw a reasonable fish or a clam, let alone a rudimentary shark I would not have believed it. (The octopus…I will work on!) 
Greg Tutunjian, Agile Pattern Strategist 
Tusind tak for en sjov, intens og udbytterig kursus, der bragte mig mange skridt videre. Jeg fik alle mine illustrations udfordringer håndteret og jeg fik lært nye færdigheder – f.x. hvordan jeg kan arbejde videre med dem på Ipad og pc. J

Sanina Kürstein, Chefkonsulent
Elisabeth Triebel, Formfalt
An dieser Stelle mal ein grosses Lob an den Zeichenkurs von Ingrid. Es macht einfach richtig Spaß, man kann sein eigenes Tempo bestimmen, erhält Tipps u Tricks und hat nie das Gefühl überfordert zu sein. Dass alles in Englisch abläuft ist auch gar kein Problem. Da Ingrid viele kleine Clips einfügt u gut verständliche Texte schreibt versteht man so gut wie alles. Dieser Kurs bringt mich wirklich dazu jeden Tag ein bisschen zu zeichnen. Und das mit Lust und ohne Zwang.
Man merkt ich bin richtig begeistert 😀 deswegen von mir 5 Sterne u Daumen hoch!!!
Why learn from me?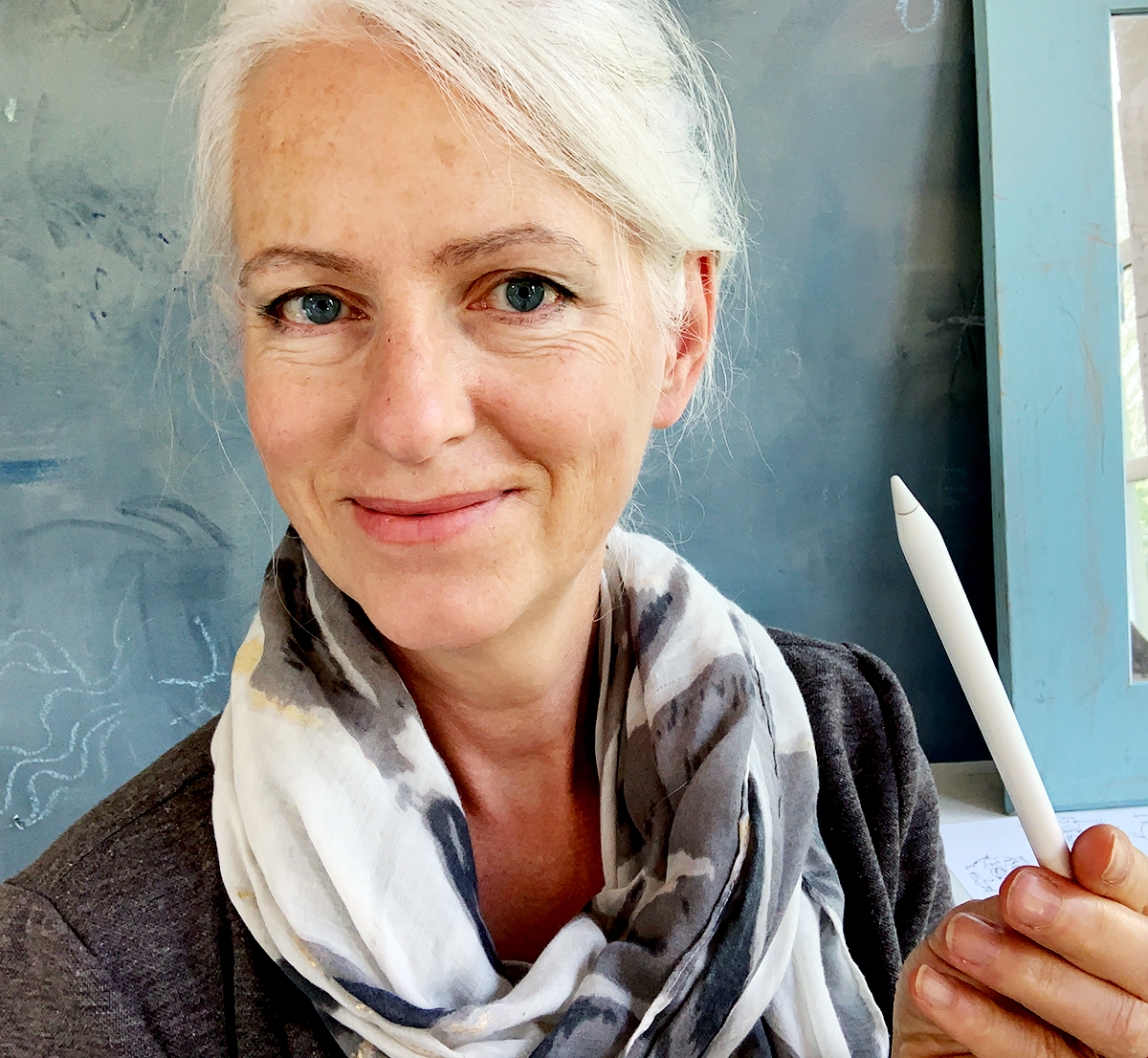 Hi, I'm Ingrid Lill. Communication designer and professional illustrator. I am German, live in Denmark, and  I speak English in my classes. Very simple English! You can ask questions in German or Danish, no problem.  I'll translate. 
I have drawn all my life.  But it was first after I started doing graphic facilitation  for organisations that I embraced the "fast and fun" illustration style that I'm teaching in this course. I share all the most useful tricks that I have learned over the years.
Drawing has transformed my business. It helped me stand out and escape being a generalist graphic designer. Now my business is not only more fun, but also more lucrative. 
No matter if you are a total beginner, or you you just want to pick up the pencil (again) and learn a few tricks – I promise you that this class will be useful and a lot of fun!